54 Brands Taking Action and Donating to Support the Black Lives Matter Movement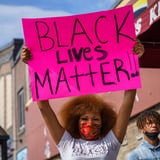 Protests continue across the country in response to George Floyd's death, and businesses are speaking up by showing their support for the Black Lives Matter movement. We want to highlight brands that are taking action and showing solidarity with the Black community, so we're spotlighting companies donating money to important causes like the NAACP Legal Defense and Educational Fund, the Equal Justice Initiative, Reclaim the Block, the ACLU, The Bail Project, and many more worthy organizations.
Join us in recognizing brands that are working to make a difference in these challenging times. Take a moment to see which brands are stepping forward and making tangible contributions to the Black Lives Matter movement. Though it may feel small, thoughtfully shopping is important right now and we appreciate that these companies are using their influence to be a part of progress.